Last week I finally got to see Calvary, the second film from writer-director John Michael McDonagh whose first film The Guard was a black comedy about the police in Ireland. Calvary however, as McDonagh himself puts it, is "in the same darkly comedic vein as The Guard, but with a much more serious and dramatic narrative."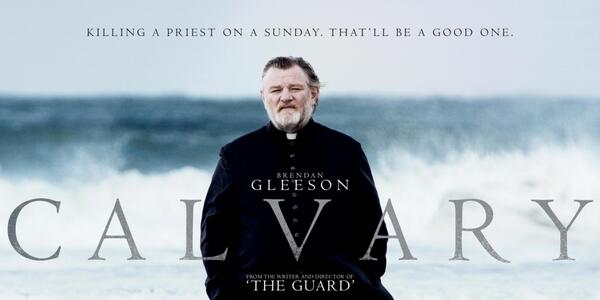 The film follows a week in the life of priest Father James Lavelle (Brendan Gleeson) after he is told during confession that he will be killed the following Sunday by a man who was abused by a priest as a child. As the week goes on the priest comes to terms with this threat, and attempts to work out who in his parish would be willing and able to kill him, coming up with little evidence against any of them. It's a beautifully woven examination of the decline of the Catholic church in rural Ireland as well as showing just how far reaching the frissons of the sex scandals are.
Brendan Gleeson is nothing short of outstanding as the priest attempting to remain the one good thing in a parish falling apart, especially as his parishioners are so keen to show him just how bad they've become. Asking him about God, telling him horrific stories that would make anyone question their faith, all delivered in an attempt to get a reaction out of him, like children showing their parent a dead animal on the side of the road as though to say "look how awful it all is". Gleeson's performance is beautifully measured, and he says more in moments of silence than some actors say in a lifetime of memorised lines.
All of this visceral and raw emotion is set against the backdrop of beautiful County Sligo, it's beaches and it's countryside juxtaposing with the depravity of the characters in the film – a coke snorting housewife bored and looking for destruction, the atheist doctor smoking outside the hospital, the aristocrat addled by money. But the daughter of the priest (Kelly Reilly), with her bandaged wrists ("you're meant to cut down") and eyes full of sorrow is the most poignant of all. Lavelle's character is a Father in so many senses of the word.
With stunning cinematography from Larry Smith and a cast full of strong peformances from the likes of Chris O' Dowd, Dylan Moran and Kelly Reilly, Calvary is something really special.
If you missed it in cinemas make sure you catch it when it comes to DVD, and in the meantime you can buy The Guard here.
I was lucky enough to see Calvary at The Rex in Wareham, Dorset's oldest continuously working cinema with friendly staff and lots of character. Check it out!